About us
Our mission is to enable independents to enjoy the best prices and access a wide variety of products for restaurant owners.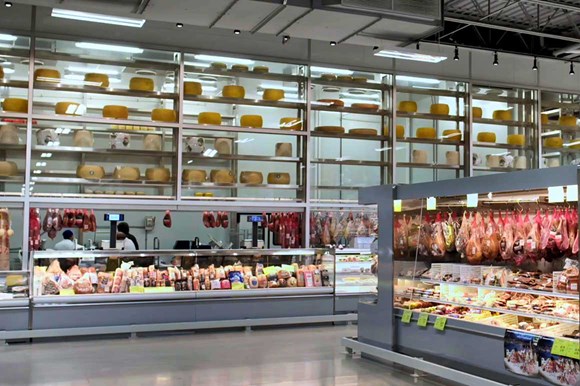 A Quebec company and food trade specialist since 1914

Offering the widest assortment of food, kitchen items and packaging under one roof

Open 7 days a week to all, with no member card obligation
The biggest possible choice and products supplied directly from producers
Our multi-speciality teams are experts in what they do. The butcher shop, fruit and vegetable market, fish store, deli counter and cheese shop are run by passionate people. They look for local Quebec products and specialities, in addition to a constant supply. The goal of our teams is to provide advice and support you can rely on.
Experience the difference our expertise can make
For many years, we've been developing a line of imported Italian products. Over 1,200 cheeses from Quebec and around the world are available. Taste 1855 Black Angus beef, featuring the highest quality tomahawk, flank steak, fillet and more. Our collection of over 4,100 kitchen items and packaging grows each week to include the biggest brands and green innovations.
Reduce your costs
To be more successful. You'll find that most of our products are sold in cases at advantageous prices, and that our specials and flyers are published and easily accessible by all our clients.
Save time
Shop at your convenience. We open at 7 am from Monday to Saturday and at 8 am on Sunday. Covered parking is plentiful and available on site at Anjou and Brossard. We now offer online shopping and a convenient order preparation service for in-store pick-up or delivery, according to your needs.
New Mayrand Business Membership program
Are you a professional or a manager at your workplace? We invite you to discover the new Mayrand Business Membership program, offering corporate clients an immediate 1% cash back on purchases*, plus an additional 1.5% to 2.5% cash back* three times a year. (excluding Everyday Low Price). Expect a warm welcome and personalized service from our sales managers.
Mayrand is growing
Mayrand has teamed up with its preferred local partners to bring you the value-guaranteed Mayrand CHEF line, the best ally for your teams. With your success in mind, Mayrand supplies products from exclusive label brands like Hortus Coffee, Cristelle Spring Water, Vespucci, Defi or Alliance.
Mayrand is expanding to better serve you in the future. Serving you with its Mayrand branches in Anjou, Brossard, Laval and Saint Jérôme, and online through mayrand.ca, Mayrand is still expanding in Quebec.