Mayrand CHEF
Offered by Mayrand for the chefs!
Our brand gives you access to useful products, quality, at a competitive price and available year-round. Our range is created with chefs for you, caterers and restaurateurs. We continue to expand the Mayrand CHEF line to offer you quality-guaranteed products that fit your budget.
Mayrand CHEF products available in store and online
With Tout Prêt, fruits and vegetables expert
Cut vegetables in food service bag
Classic salad (arcadian lettuce, arugula..)
Aromatic salads, microgreens mix
Cut fruits and fruits salads in jars
With our local supplier and partners
Nuts and dried fruits in tray and in bag
Oils and fats
Sauces and condiments
Soup and sauce bases
Pie fillings
Pie doughs (bottom, and top)
Pasta
Pizza dough
Bread
Cakes
Fries and onion rings
Salad sauce and mayonnaise
Delicatessen (ham, sausages, cretons...)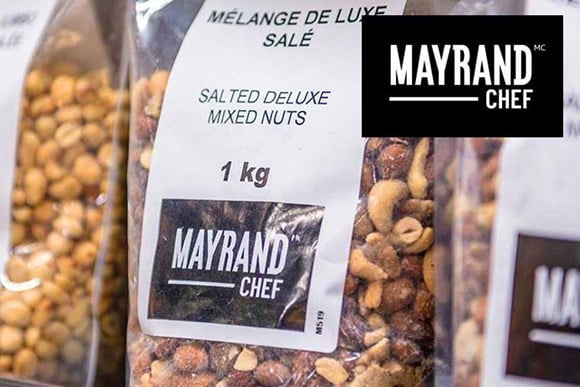 Packaged in Quebec, selected and tested by Mayrand, nuts and dried fruits are packaged in practical reclosable bags for your use in the kitchen.
Produced exclusively for Mayrand, the assortment continues to grow under the supervision of our Fruit and Vegetable Department Director. We already have about a hundred products with the most precise specifications. Quality and attention to detail (sizing, taste, cut type or origin) are part of the specifications of each variety.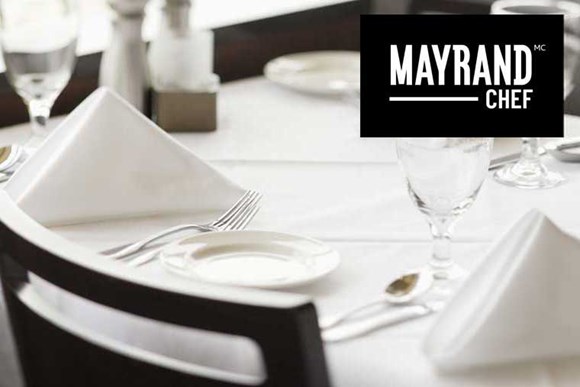 Mayrand CHEF tablecloths are made of water repellent and durable fabrics that are easy to clean.
The range is made of classic, white tablecloths, with assortments of cloth napkins. Elegant and simple, they are perfect for table service or buffets. They combine quality and affordable price, an asset for any restaurant and catering service.